Welcome!
[10/04/2017] Softpin Distributor, MAXIS SOFTPIN, DIGI SOFTPIN, CELCOM SOFTPIN, XOX SOFTPIN, TUNETALK SOFTPIN, UMOBILE SOFTPIN... Get stock instant!T&C Apply.
[10/04/2017] 10 Years Anniversary Promotion! Mini Server Promotion RM3888 with 1 usb modem! Mini Server program ALL TELCO with DISTRIBUTOR RATE!, softpin, E+PAY MANCHINE, android apps, iOS apps! Limited, apply for brand new 10 customers only! T&C Apply.
Celcom Centouch SIM PACK Auto/Batch Registration Software, Maxis AMR web SIM Pack Registration Software and Friendi SIM Pack Auto Registration Software Available now!
SMS to register NEW customer SIM Pack System for CELCOM,DIGI,HOTLINK,XOX,MERCHANTRADE,TUNETALK,UMOBILE available now! Example SMS Format SIM*<TELCO>*<MOBILE>*<SIMSERIALNo>*<NAME>*<IC/PASSPORT>*<[NO/FLOOR/BLOCK],[STREET 1],[STREET 2],[POSTCODE],[CITY],[STATE]>*<DOB DDMMYYYY> send to 0129336318
MALAYSIA RELOAD API, MALAYSIA RECHARGE API Available FOR INTERNATIONAL COUNTRY TO CONNECT.!
08 Jan 2015 New! E+Pay Print Reload Coupon available!
08 August 2014 New! Auto Banking System available!
03 April 2013 New! Mobile SRS Adroid Apps available!
18 NOV 2011 New! Pay bill Now available Online Bill Payment - Maxis Postpaid,Celcom Postpaid,DiGi Postpaid.Available!
01 NOV 2011 New! International Topup, Indonesia, Bangla, Nepal Available!
06 AUGUST 2011 - Celcom SIM PACK auto activation System. Process up to 8 SIM Card at same time within 1 minute.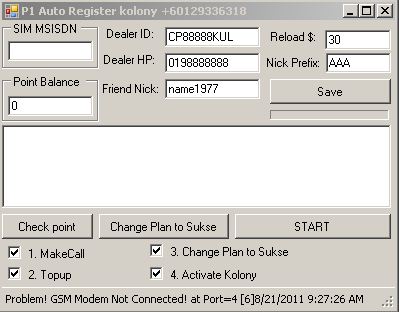 We Supply Eload SIM Card for Celcom, Maxis, DiGi, Tunetalk, XOX & UMobile!
Support New Celcom Rebate start 14 June 2010. Auto rebate to Dealer & Agent.
Scare of DiGi shortcode suspended? No worry! we got solution!
Are you looking for a system that help you automate your manual reload?
Are you one of the Maxis Gold Dealer, DiGi Gold Dealer or Celcom Gold Dealer?
Are you looking for SMS Reload System to run your E-Load faster, which can help in rolling your money faster.
Are you handphone Dealer with many of agent network?
Are you handphone Dealer want to sell more reload credit to hit your target to become Gold Dealer?
Here the system you looking for:
SMS Reload System